CANE MULCH – Bulk orders delivered to all areas in Queensland.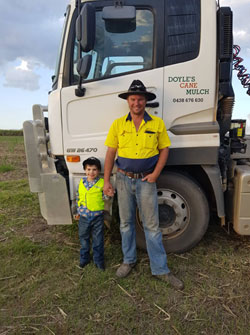 Doyle's Cane Mulch is a family-owned business that has been in operation since 2004. Nathan is a third generation cane farmer who decided to diversify into baling sugar cane mulch, which traditionally was a waste product of the harvesting process.
Originally the cane trash was burnt as the older harvesters were not capable of handling bulk organic matter. Sugar cane mulch is an environmentally-friendly renewable resource that has multiple uses:
Garden Mulch – retains moisture in our dry climate and controls weeds without the need for nasty chemicals
Erosion control – used in roadworks and construction sites
Stock feed – in drought conditions can be used to supplement cattle
Chicken coop bedding – warm and comfortable for your hens to nest in
Composting – cost effective bulk ingredient in large-scale composting such as orchards and vineyards
We strive to make a premium quality cane mulch bale by selecting cane trash from blocks that are as weed and grass-free as possible. We use the latest in modern farming technology to ensure quality also. A shredder topper is fitted to the harvester, this makes the mulch finer at around 100-200mm per leaf. We use a specially designed rake to minimise dirt in the bale production.
BUY DIRECT
Cheryl Doyle (Nathan's mum) is the friendly face of Doyle's Cane mulch who sells direct to the public.
Opening hours:
Friday and Saturday 8:00am-2:00pm
Price $6.00 per bale. (GST included)
Address: 542 Main Street, Nikenbah, Hervey Bay.
Phone: 0407 572 014
BULK ORDERS
Delivery available locally and all areas in Queensland. Cane mulch deliveries include the Wide Bay Burnett region and extends to Roma, and beyond if needed.